Cyclone Future in doubt beyond 2018
Monday, 23rd October, 2017
As many of you will know from first hand experience, the Cyclone Festival of Cycling is the North-East's biggest cycling event and one of the best-loved and longest running cycling festivals in the UK. However, it faces an uncertain future unless a new headline sponsor can be found.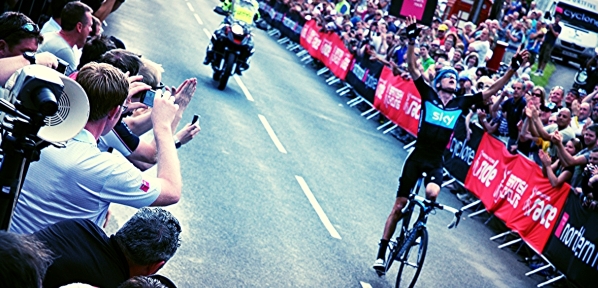 Above: Bradley Wiggins wins the 2011 Beaumont Trophy, which was also the national championships that year
Though its ground-breaking multi-day format has been much imitated, since it was launched in 2006, the Cyclone retains a unique charm of its own, thanks to its spectacular Northumberland setting and every year enjoys the support of thousands of participants, spectators and a local community that have taken the event to their hearts.
However, although the next Cyclone Festival is going ahead as planned on the 15th to 17th June 2018, the absence of a major sponsor means that organiser, Peter Harrison, fears that it may be the last edition. The Cyclone Festival has enjoyed a proud history of headline sponsors, but has run at a loss since the end of Virgin Money's support in 2016.
Sponsorship helps to underwrite the considerable costs associated with running three days of meticulously organised cycling events. In particular, the Beaumont Trophy, one of the UK's most historic elite men's races, and the traditional climax of the festival weekend, incurs costs that are potentially unsustainable after 2018.
Ironically, as we head towards next year's 67th running, the Beaumont Trophy's reputation has never been better: nowadays it enjoys international status and is and is sanctioned by the world governing body of cycling, the UCI. Recent high profile winners have included Bradley Wiggins in 2009 and 2011.
Peter Harrison explains the situation: "The Cyclone Festival offers something for everyone: families and young children enjoy our Friday evening rides by the Tyne; club and leisure cyclists ride Saturday's Cyclone Challenge Rides in their thousands; elite men's and women's teams then race over the same roads on the Sunday. We raise thousands of pounds for charities every year and enjoy tremendous support from the local communities through which our events pass. But, despite running the whole weekend on a not-for-profit basis, we still need the backing of a major sponsor if we are to continue running and developing the weekend."
"We are looking to find a major backer who will headline across the whole weekend. In return we can offer them a well-established platform for their brand. Messages of sustainability, corporate responsibility, health and fitness all sit well alongside the way we promote and run the Festival."
As well as some outstanding headline sponsorship opportunities, the Cyclone Festival is also able to offer a number of other co-sponsorship and partnership and product-placement packages. Call Peter Harrison on 07710 635514 or email info@cyclonecycling.com
A FEW FACTS
The Cyclone Festival Weekend
Friday: A chilled start to the festival, the Tyne 6 Bridges Family Rides bring riders of all ages into the centre of Newcastle for a summer's evening ride along the banks of the River Tyne: c. 300-400 participants.
Saturday: Thousands (between 2500 and 4000) leisure cyclists take part in our Cyclone Challenge Rides. Four routes (34, 64, 90 and 106 miles) across some of Northumberland's finest scenery and along some of the county's quietest and most engaging roads. Electronic timing, food stops, mechanical support and an outstanding HQ (Newcastle Rugby club) make this a very special event.
Sunday: World and Olympic champions and 300 plus elite cyclists compete in our flagship races, with the men's Beaumont Trophy now established on the UCI (world governing body) calendar and attracting continental-based teams as well as the UK's leading outfits; whilst the women's Curlew Cup is renowned as one of the toughest races in British Cycling's national women's series.
Make a Donation & Keep the Cyclone Running
By making a donation (one-off or monthly), you can help us to keep the Cyclone Festival of Cycling running. The Festival is run on a not-for-profit basis and all donations will be used exclusively to help us run the weekend's events. Thank you!