Tour of Britain Visits Our Roads
Thursday, 27th April, 2017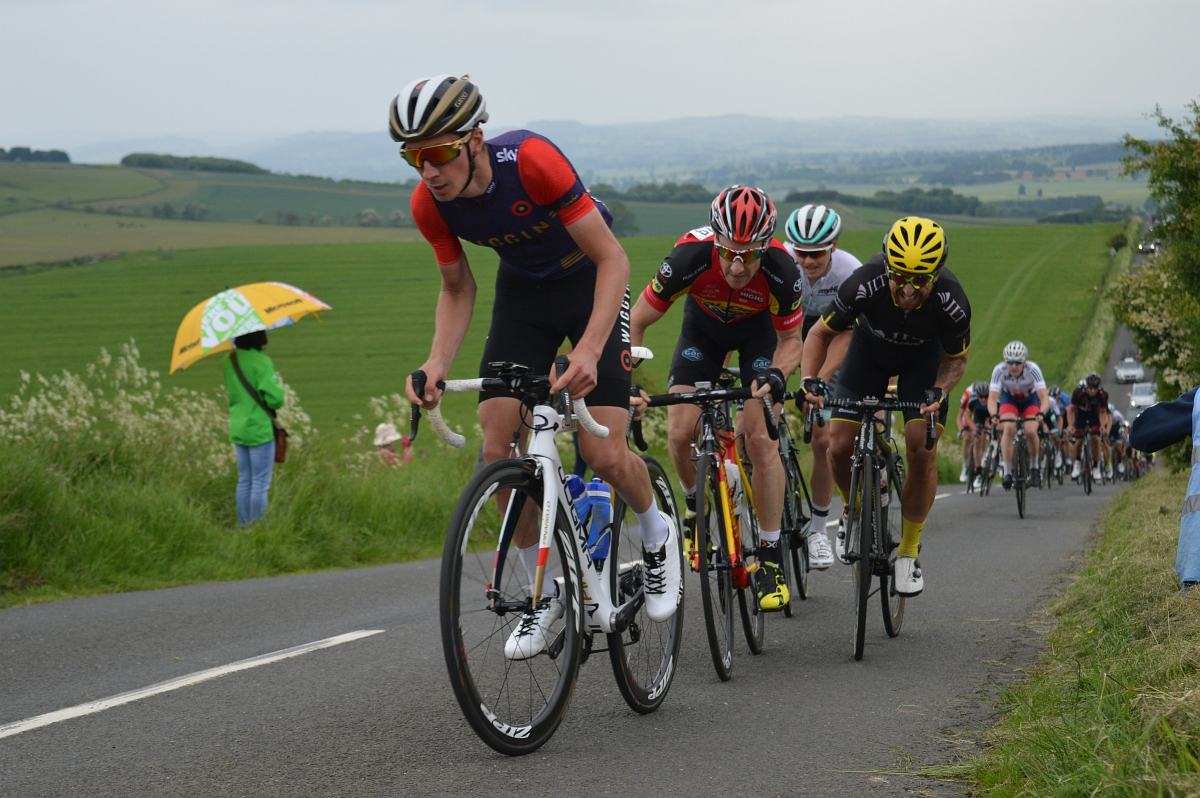 The announcement of the route of the 2017 Tour of Britain (Weds 26 April), including an iconic stage in the North East of England, has focused attention on the area's growing reputation as a cycling heartland. The beauty and space of the Northumberland landscapes, combined with quiet roads and a local passion for the sport, means that more and more major cycling events are now visiting the area.
And a big year for elite cycle racing in the North East begins later this week with a "near miss", when the Tour de Yorkshire ventures as far North and East as Whitby as the third edition of the race gets underway on Friday 28 April. The first stage begins in Bridlington and finishes in Scarborough via the North York moors and will attract fans from the cycling heartlands of the North-East to venture out to watch some of the world's leading cyclists compete on roads familiar to many of them..
At the other end of the season, the Tour of Britain (3-10 September) includes a spectacular second stage (Monday 4 September) that starts in Kielder Water & Forest Park and travels 134 miles on a clockwise loop through Northumberland, via Rothbury, Alnwick, Bamburgh, Warkworth and Morpeth, before finishing in Blyth.
The route includes several sections of road that we use in the Cyclone Challenge Rides. In particular, the
climb of the Gibbet
, which features in the 90 mile Challenge Ride and the
Garleigh Moor crossing
, which is in both the 90 and 106 mile Challenge Rides.
THE CYCLONE FESTIVAL OF CYCLING
Bracketed by these international races, the Cyclone Festival of Cycling also brings international men's cycle racing to the region, in the shape of the one-day Beaumont Trophy (Sunday 18th June), sanctioned by the International Cycling Union (the UCI) and expected to attract entries from world and Olympic champions.
The Beaumont Trophy is just one component of the three-day Cyclone Festival of Cycling, organised in Newcastle and run by local volunteers. The Festival will attract thousands of cyclists to the region for fun, traffic-free family rides, longer challenge rides for amateurs and elite races for some of the world's leading men and women cyclists.
---
Cyclone Festival organiser, Peter Harrison, has been involved with organising cycling events in the North East for many years and the Cyclone, which he launched 11 years ago, has become a blueprint for many similar event weekends that combine racing and leisure/challenge rides.
Peter welcomed the news of the Tour of Britain's visit to the area: "I think the word has got out that the North-East is a cycling paradise. Local clubs and rider have known this for years, but the Tour of Britain's visit confirms it. Interestingly, the route for their second stage shares some of the roads we have used for the last 11 years for the Cyclone Challenge Rides, the North-East's biggest public participation cycling event."
"If you include the Tour de Yorkshire's visit to the North York Moors this week, that's three major international men's races coming to our region in 2017. With the Cyclone Festival's Curlew Cup also attracting a national level field of women's cyclists and the thousands of riders we are expecting for our Challenge and Tyne 6 Bridges rides, the North East is set to rival Yorkshire as the UK's home of cycling in 2017!"

FURTHER INFO


CYCLONE FESTIVAL OF CYCLING
Friday 16 June: Tyne 6 Bridges Family/Leisure Rides: Short, traffic free routes along the Tyne. MORE INFO/ENTER
Saturday 17 June: Cyclone Challenge Rides: Four routes (106, 90, 64 & 34 miles), meticulously organised with food stop, detailed route marking and cakes and teas laid on in villages around the routes through beautiful Northumberland. Many participants riding for local charities. MORE INFO/ENTER

Sunday 18 June: Beaumont Trophy international men's race and Curlew Cup national women's race, both based in Stamfordham. MORE INFO