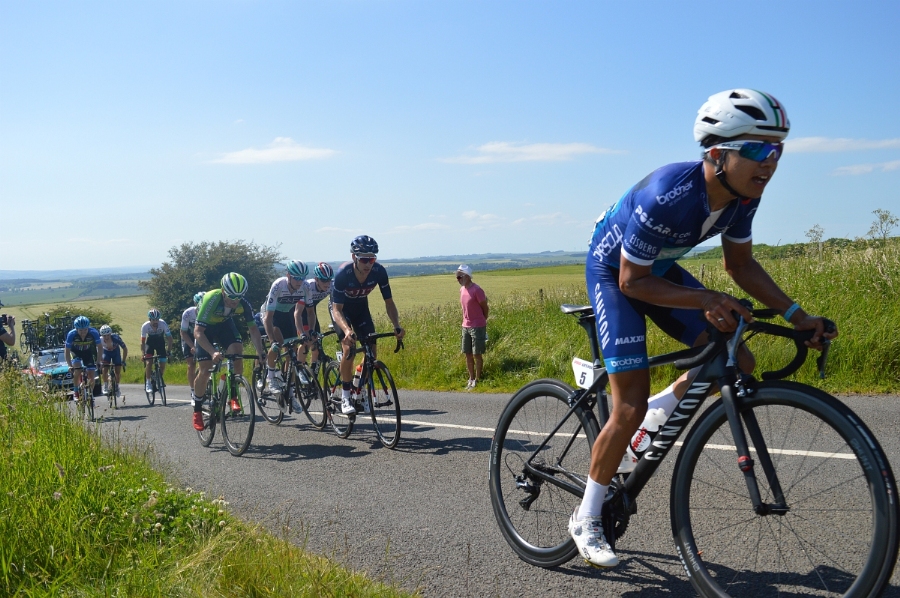 June 18, 2017 |  2years | GENERAL
The ONE Pro Cycling team showed their strength in depth when they successfully defended the Beaumont Trophy title, won for them last year by the since departed New Zealander, Dion Smith. This time it was the duo of Pete Williams and Tom Stewart who dominated the closing stages of the race, with Williams going on to claim the win.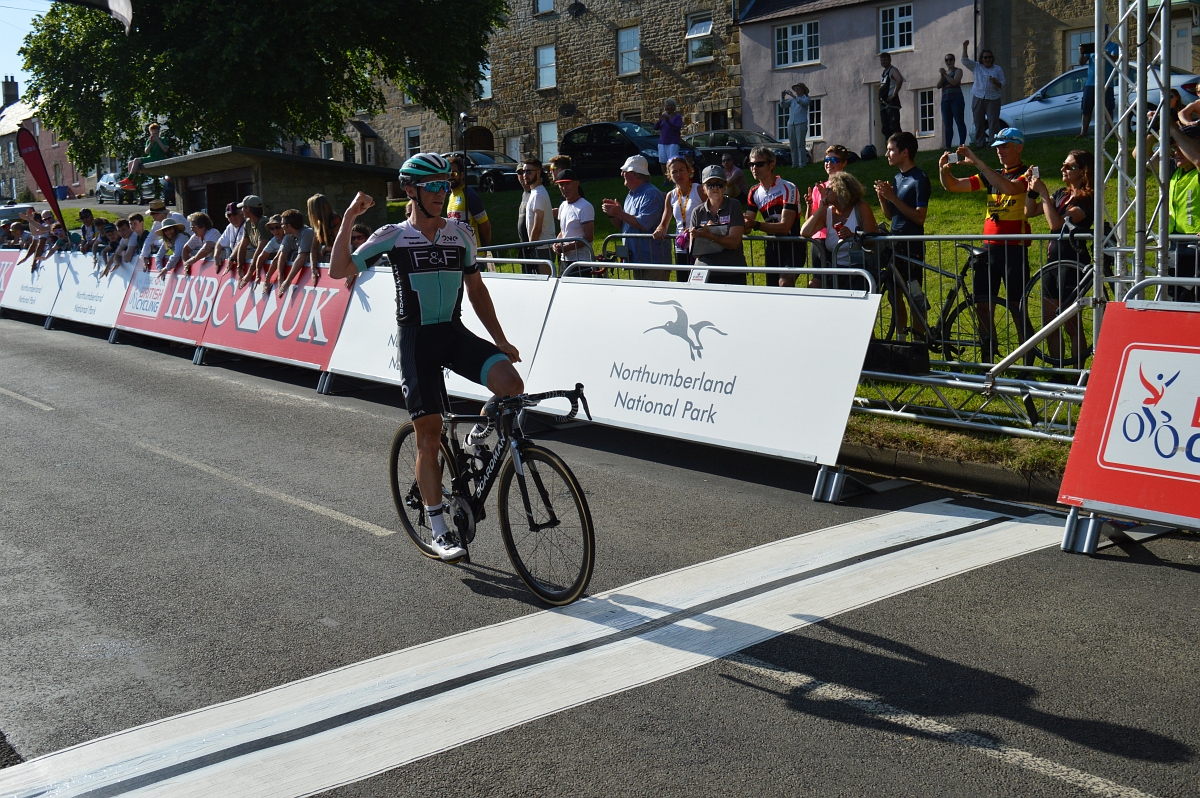 Pete Williams crosses the line after a long, hard afternoon in the saddle
With temperatures in the high twenties by the time the race started, just after 1pm, it was always going to be tough day in the saddle for the 150 competitors. Coming in at almost 120 miles, with four climbs of the triple-ramped Ryals ascent, lots of narrow rolling minor roads with poor surfaces, this may be a scenic race but few who take part have the time to admire the beautiful Northumberland countryside.
After a brisk half hour in which the riders settled to their task, the field was split as early as the second lap by a combination of teams working hard at the front. The young GB team, in particular, put in a lot of good work and were ultimately rewarded with four riders in the top twenty, a great fourth place for Matthew Bostock and the team prize.
Going into the final lap, the field was spread over some miles of the course, with Steve Lampier of JLT Condor away on his own and some 20 seconds clear of a small chasing group after a brave move.
The ONE Pro duo of Pete Williams and Tom Stewart were instrumental in chasing down Lampier and they eventually caught him with some 15km to go to the finish. Lampier's team-mate, James Gullen, had been towed along by Williams and Stewart during the chase, but with Lampier fading, he suddenly found himself the odd man out in a three man group that was clearly destined to decide the winner.
Stewart kept the pace high but was eventually tailed off leaving Williams and Gullen to ride in together for the final few kilometers. Gullen worked hard but, speaking after the race, he admitted he knew that he was unlikely to out-sprint Williams and so it proved, with the ONE Pro rider winning by several lengths at the finish.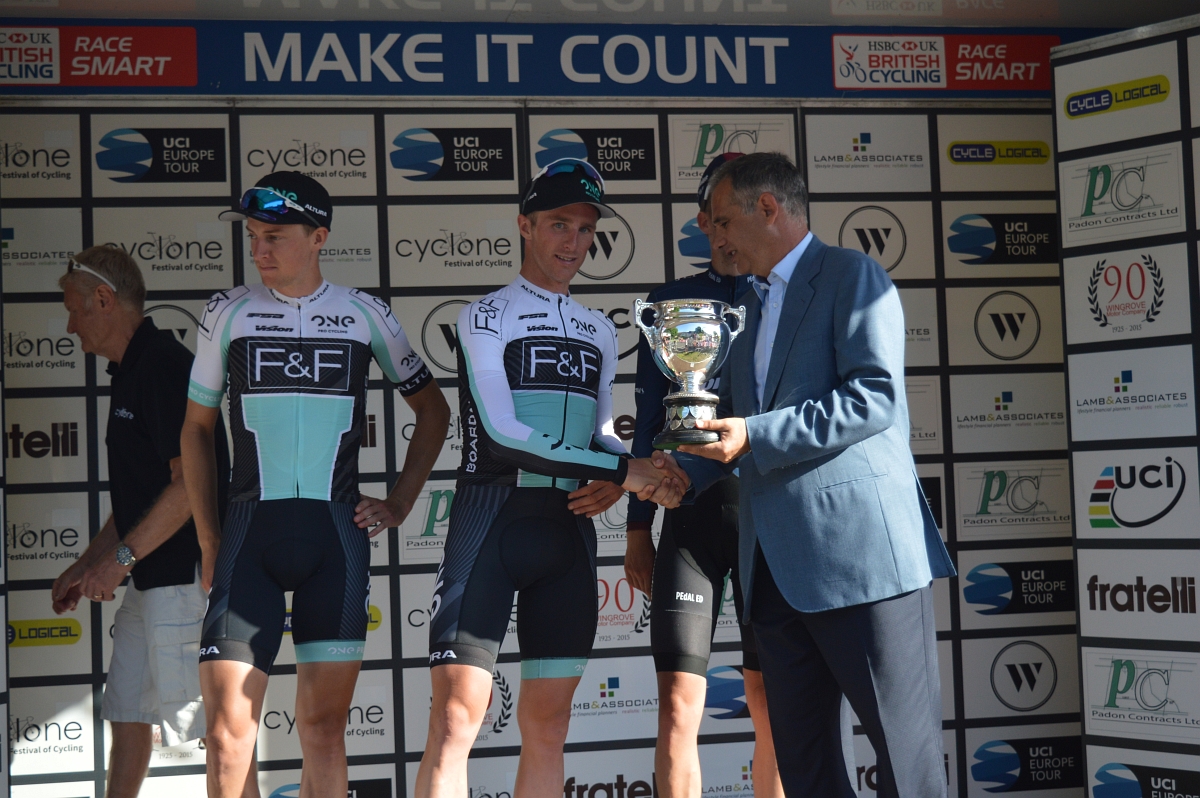 Newcastle Falcons owner, Semore Kurdi, presents Pete Williams with the Beaumont Trophy.
At the finish, Pete Williams spoke to Matt Payne, the race commentator: "I had good legs today. I always seem to go well on this course, it seems to suit me. We had to go pretty hard to get Lamps [Stve Lampier] back, but luckily the roads took their toll on him. Going into the finish Tom was really strong and when you have a strong team-mate it makes life so much easier for you, you can sort of play off each other."
Results
Beaumont Trophy (UCI 1.2)
1. Pete Williams, One Pro Cycling 4.28
2. James Gullen, JLT Condor, Same time
3. Tom Stewart, One Pro Cycling @ 7 secs
4. Matthew Bostock, GB
5. Joey Walker, Team Wiggins
6. Adam Hartley, GB
7. Steve Lampier, JLT Condor
8. Jonny McEvoy, Madison Genesis
9. Max Stedman, Bike Channel Canyon
10. Adria Moreno, Raleigh GAC
11. Joe Holt, GB
12. Andrew Hawdon, Wheelbase
13. Bertie Newey, Metaltek Kuota
14. Harry Tanfield, Bike Channel Kuota
15. Connor Swift, Madison Genesis
16. Dexter Gardias, Bike Channel Canyon
17. karol Domagalski, One Pro Cycling
18. Jon Mould, JLT Condor
19. Ethan Hayter, GB
20. Andy Tennant, Team Wiggins
21. Richard Handley, Madison Genesis
22. Kamil Gradek, One Pro Cycling
23. Graham briggs, Jlt Condor
24. Jake Tanner, Cycling Sheffield
25. Hayden McCormick, One Pro Cycling
26. Liam Holohan, Metaltek Kuota
27. Ali Slater, JLT Condor
28. James Oram , One Pro Cycling
29. Rocbert Scott, Team Wiggins
30. James Davey, ZQ Compisite
31. Chris Latham, Team Wiggins
32. Ben Hetherington, MTS
33. Lloyd Chapman, Catford CC/Banks
34. Michael Cumming, Neon Velo
35. Richard Jones, Brother NRG
36. Joe Clark, Cycling Sheffield
37. Ben Hardy, ZQ Composite
38. Anthony Moye, Spirit Tifiso
39. William Brown, Brother NRG
40. Matt Holmes, Madison Genesis
41. Alex Luhrs, Brother NRG
42. Will Bjergfelt, Neon Velo
43. Evan Oliphant, Wheelbase
44. Etienne Georgi, Team Wiggins
45. Ed Clancy, JLT Condor
46. Josh Husley, Godfrey Bikewear
47. Tobyn Horton, Madison Genesis
48. Matthew Clements, Catford CC Banks
49. Charles Quarterman, ZQ Composite
50. Daniel Nieto, team Bottechia
51. Lawrence Carpenter, Catford CC Banks
52. Liam Bromiley, Cycling Sheffield
53. Conn Mcdunphy, Raleigh GAC
54. Alex Paton, Madison Genesis
55. Fraser Martin, Raleigh GAC
56. Jeremy Durrin, Neon velo
57. Elliot Porter, Neon velo
58. Zeb Kyffin, NE Regional team
59. Alex Fanshawe, Saint piran
60. James Jobber, Catford CC Banks
61. Alfie Moses, Wheelbase
62. Douglas Coleman, Spirit Tifiso
63. Enrique Sanz, Raleigh GAC
64. Sebastian Mora, Raleigh GAC
65. Dan Fleeman, Metaltek Kuota
66. Marc Potts, Neon velo
67. Tristan Robbins, Raleigh GAC
68. George Atkins, Bike Channel Canyon
69. Scott Auld, ZQ Composite
70. Steven lawley, Meteltek Kuota
71. Tim James, 365
72. Wilson Renwick, NE regional team