The field will be limited to 140 riders and selection will be done as per the National Series regulations. The race is centred on the village of Stamfordham and takes in the fearsome climb of the Ryals where, most famously, Team Sky launched the attack that resulted in Bradley Wiggins winning the National title in 2011.
The event will be part of a full day of entertainment for all the family with lots on offer for all spectators. Race HQ will be at Stamfordham Village Hall where there will be refreshments for spectators and toilet facilities. The Swinburne Arms will also be open for refreshments and food throughout the day.
Spectators will not be allowed to park in Stamfordham and will be directed to designated parking area at the Stamfordham Cricket Club & Sport Pavilion, just to the South of the village. More details are in the programme and parking areas will be signposted. The race will be subject to a rolling road closure which will be under the control of Northumbria Police and the National Escort Group.
There will be delays and all spectators are urged not to attempt to drive around the course unnecessarily. The race will start at 1.15pm and will be a combination of two circuits. The race will consist of 4 laps of a larger 25 mile circuit and then finish with a final lap of a smaller 14 mile circuit. See our Routes page for maps and more details of the laps.

Event Spectator Programme & Technical Manual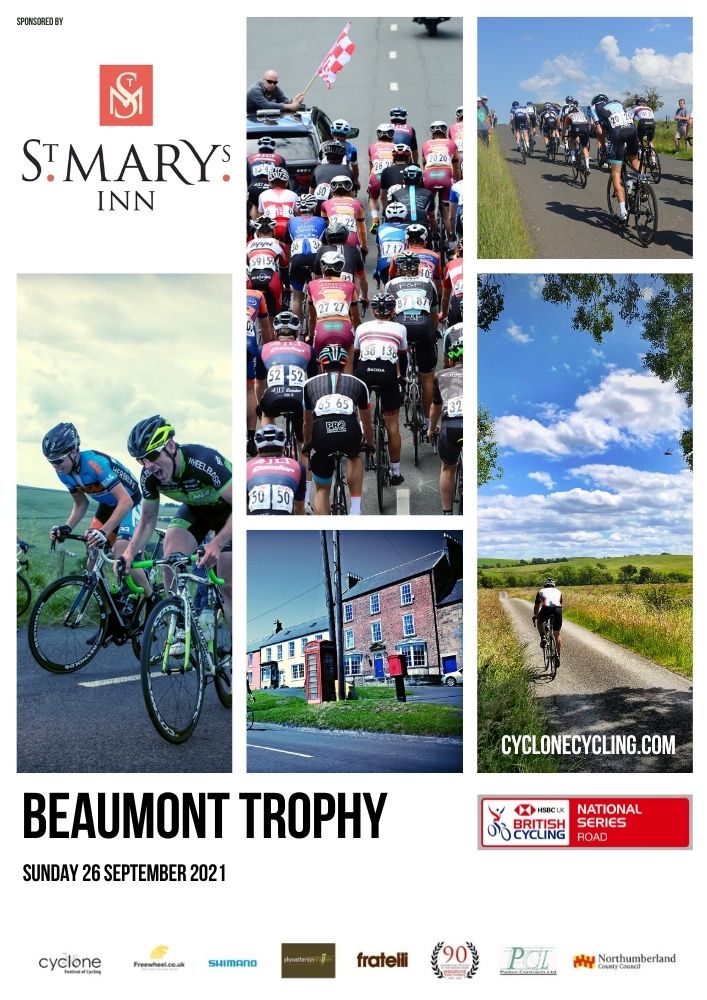 Download Event Spectator Programme Includes race timings at key points & spectator parking details.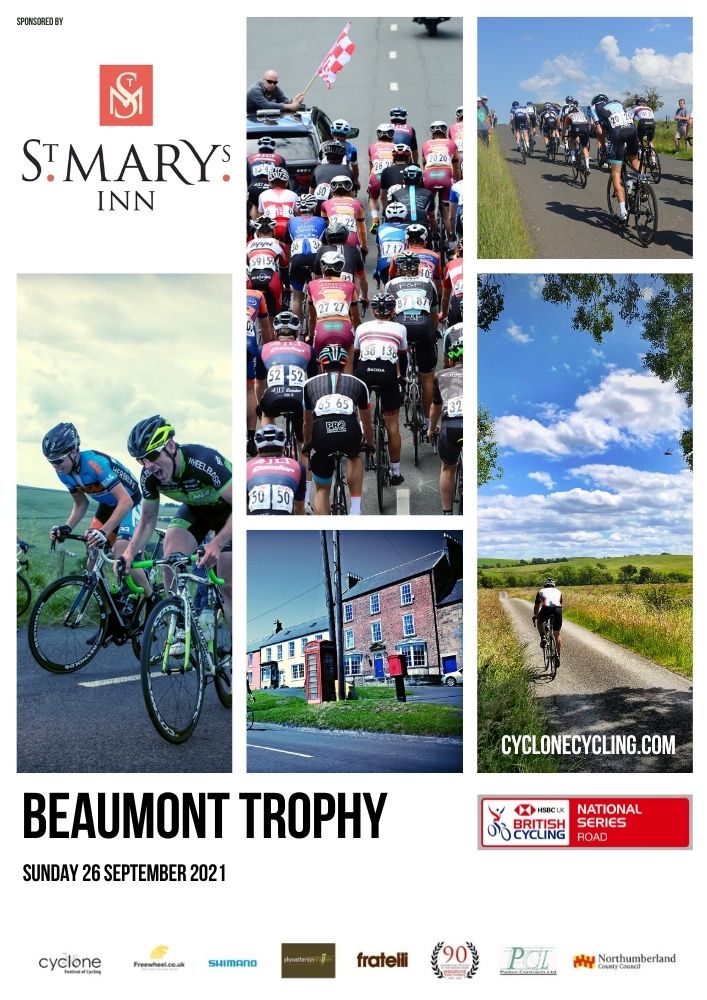 Download Event Technical Manual Includes detailed info for riders, teams and race officials
Drop-Box link to start lists & results

History of the Beaumont Trophy
The Beaumont Trophy itself is one of the longest running national road events on the calendar. It was first run in 1952, the year after the organising club, Gosforth Road Club, was formed. The trophy was presented by Rex Beaumont, a cycle and motorcycle wholesaler based in Newcastle. The first edition of the race was won by Stan Blair riding for Viking Cycles and started and finished in Gosforth Park where the club had its headquarters.
Since then, the race has been won by many famous riders including Sir Bradley Wiggins, Chris Newton, Russell and Dean Downing, Malcolm Elliott and Don Sanderson to name but a few. The most prolific winner of the Trophy is Ray Wetherell who has won it 5 times. Sir Bradley Wiggins won it twice, including 2011 when the event was the National Championships. Connor Swift won the race in 2018 when, again, it was the National Championships.
Previous Winners
2005 Malcolm Elliott (GBR) Pinarello–Assos
2006 Evan Oliphant (GBR) Recycling.co.uk
2007 Russell Downing (GBR) Health Net–Maxxis
2008 Rob Hayles (GBR) Team Halfords Bikehut
2009 Bradley Wiggins (GBR) Garmin–Slipstream
2010 Chris Newton (GBR) Rapha Condor–Sharp
2011 Bradley Wiggins (GBR) Team Sky (National Championships)
2012 Russell Downing (GBR) Endura Racing
2013 Dean Downing (GBR) Madison Genesis
2014 Kristian House (GBR) Rapha Condor–JLT
2015 Christopher Latham (GBR) Great Britain
2016 Dion Smith (NZL) ONE Pro Cycling
2017 Peter Williams (GBR) ONE Pro Cycling
2018 Connor Swift (GBR) Madison Genesis (National Championships)
2019 Rory Townsend Canyon dhb P / B Bloor Homes
2019 Race on Youtube