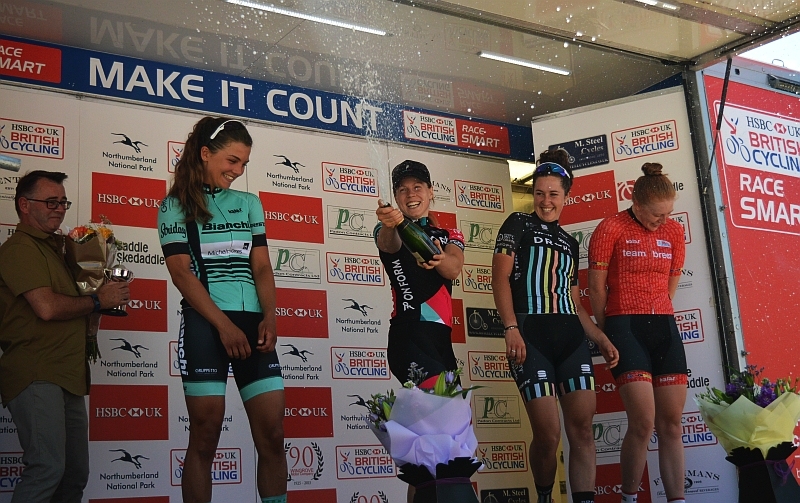 June 18, 2017 |  2years | GENERAL
Julie Erskine of Cycle Team OnForm came out on top after a scorching morning of racing, winning the Curlew Cup in Stamfordham, near Newcastle-upon-Tyne. The event was the latest round of British Cycling's HSBC UK | National Women's Road Series and it drew a high-quality field, including world and Olympic Champion Katie Archibald.
But it was Erskine's day as the Team OnForm rider emerged victorious from a race-deciding break of five riders that formed on the last of three laps of a hilly and technical circuit in the beautiful Northumberland National Park.
Erskine's strong sprint on the slightly downhill finishing straight was too much for her fellow escapees. Hannah Payton, making a very rare appearance in a summer Road race, made the most of her Cyclo-Cross prowess on the race's narrow and hilly roads to take second place for Drops Cycling. Bianchi Dama UK's Georgina Panchaud was just behind Payton, with Chanel Mason of Storey Racing fourth. Emily Nelson (Breeze) joined the break late after a solo chase and had to be content with fifth and best under-23 in the race.
Once again the famous three ramps of the Ryals climb was the place to split the race up and the stronger riders and teams put the pressure on each time the race hit these slopes. High temperatures, even at the 9am start, meant that the race had an additional attritional element and many riders look exhausted at the finish.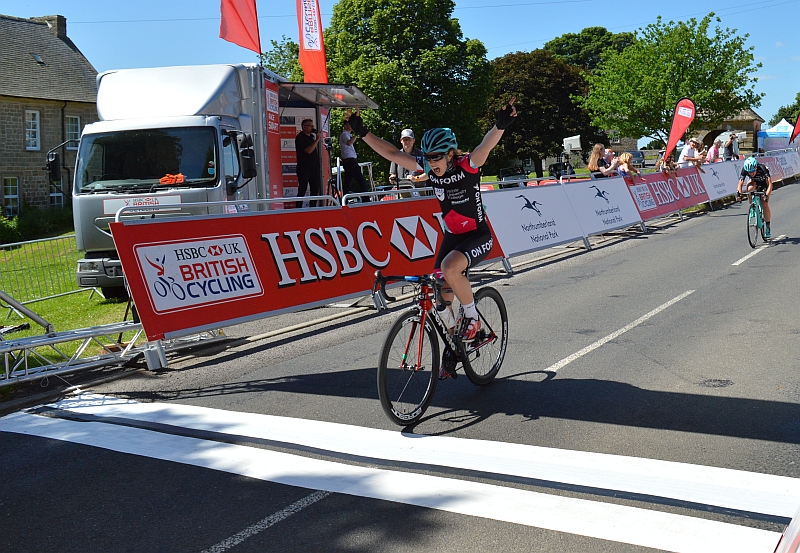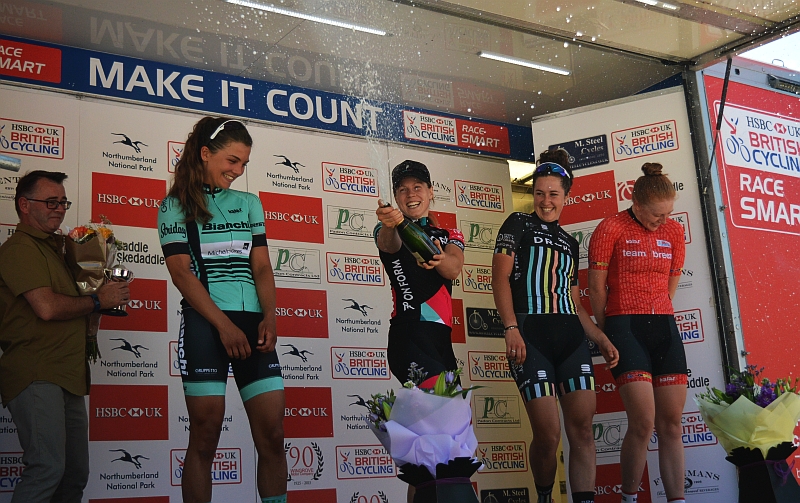 Julie Erskine enjoys her champagne moment
But, despite the conditions, it was late in the race, on the final climb of the Ryals before the decisive break was made. Earlier, even Olympic champion Katie Archibald and former winner Laura Massey could not get away when they combined forces. Archibald missed out on the podium, but had some consolation in taking both Queen of the Mountain and sprints prizes at the finish. The team prize went to the Drops team and the Junior prize to Sophie Thackray.
At the finish, Julie Erskine seemed somewhat take aback by her win: "I didn't know if I had the legs to sprint but I saw Hannah go, got on her wheel and just managed somehow to go round her. Hannah's really strong so I was pretty surprised to do that!"
Curlew Cup Results
1. Julie Erskine, Team OnForm
2. Hannah Payton, Drops
3. Georgina Panchaud, Bianchi Dama
4. Chanel Mason, Storey Racing
5. Emily Nelson, Team Breeze
6. Katie Archibald, WNT
7. Neah Evans, Storey Racing
8. Laura Massey, Drops
9. Mellisa Lowther, Team Breeze
10. Natalie Grinczer, WNT
11. Genevieve Whitson, Sorex CT
12. Eleanor Dickinson, Breeze
13. Annasley Park, Team Breeze
14. Charmaine Porter, Ford
15. Megan Barker, breeze
16. Abigail van Twisk, Drops
17. Elizabeth Banks, Storey Racing
18. Gabby Shaw, WNT
19. Rose Osbourne, Drops
20. Charlotte Colclough, Bianchi Dama
21. Bethany Hayward, Ford
22. Alice Sharpe, Kuota Torelli
23. Sophie Thackery, Kuota Torelli
24. Jennifer Powell, Ford
25. Jennifer George, Storey
26. Alicia Speake, Onform
27. Fiona Hunter Johnston, Fusion
28. Stephanie Mottram, Kuota Torelli
29. Mellisa Brand, Ford
30. Manon Lloyd, Breeze
31. Alana Prior, Edco Continental
32. Kelly Murphy, Ford
33. Molly Patch, Fusion
34. Molly Weaver, Sunweb
35. Sian Botteley, Onform
36. Amy Gornall, Secret training
37. Jennifer Hudson, Fusion
38. Anna Docherty, Epic
39. Emily Meakin, Lifestyle
40. Kim Baptista, Kuota Torelli
41. Sophie Enever, team 22
42. Gemma Sargent, Onform
43. Lynsey Curran, Dooleys cycles
44. Bethany Crumpton, Storey racing
45. Holly Flannery, Jadan
46. Minca Dew, Storey racing
47. Fiona Turnbull, Speedflex
48. Chloe Weller,
49. Ellen McDermott, Edco Continental
50. Christine Marshall, Vertex
51. Jennifer Batey, Edco Continental
52. Jessica Duffy, Bianchi Dama
53. Elana Spanou, Onform
54. Savannah Morgan, Team 22
55. Lily Greenhalgh Team 22