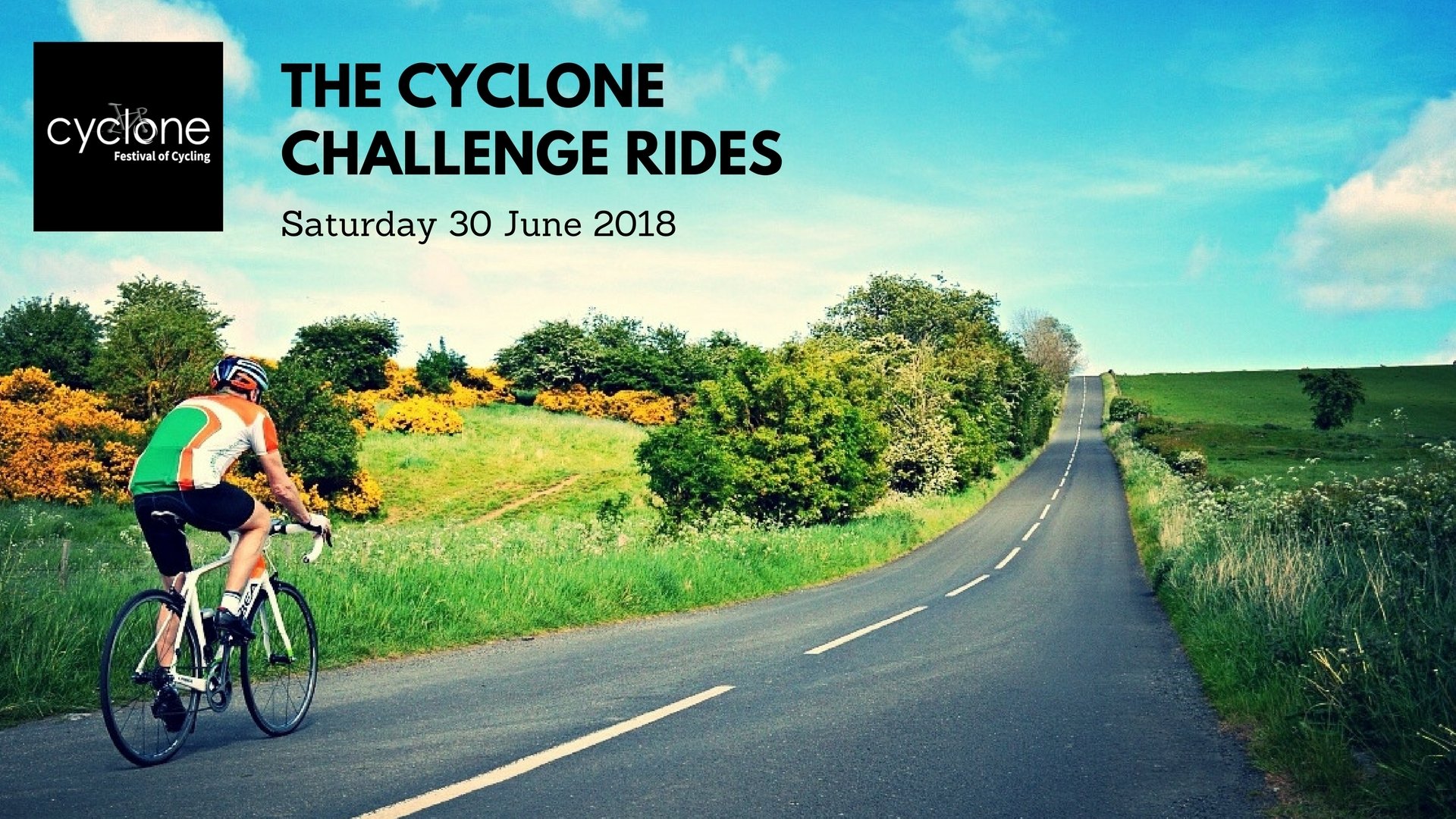 Cyclone Challenge Ride - Final Instructions to Participants
June 26, 2018 |  5months | GENERAL
Final Instructions: Cyclone Challenge Rides
Here are the final instructions for participants in the Cyclone Challenge Rides, taking place on Saturday 30th June 2018.
BEFORE THE EVENT

PLEASE FILL IN AND BRING WITH YOU YOUR SIGN-ON TICKET

Most importantly, please print off and fill in your "Sign-On Ticket" - this enables us to quickly identify you and provide you with everything you need for your ride when you arrive to sign-on.
Download Sign-On Ticket (pdf file)

PLEASE PRINT OFF A COPY OF THE EVENT PROGRAMME
We recommend you print off an carry a copy of the event programme. It may be helpful as this includes maps, event location, start times etc - Download Programme
ON THE DAY OF THE EVENT

FINDING THE EVENT & CAR PARKING ON SATURDAY 30 JUNE
The event headquarters is at Newcastle Falcons Rugby Ground, Kingston Park Stadium, Brunton Road, Kenton Bank Foot, Newcastle upon Tyne NE13 8AF.
Pre-booked parking (£5) is available at this venue and there is still time to
book online
. Don't forget to bring your email parking confirmation and voucher (redeemable against food & drink at the venue).
Alternatively, free parking is available at the 500 space Great North Park Park and Ride which is just 2km from the Falcons Ground and close to the A1. This car park will be sign posted, with Stewards to guide riders to the start. For those with SatNav, please use the postcode NE13 9NR.
WARNING Parking is not available in the streets around the event HQ and traffic wardens will be operating.

SIGN-ON
Sign-on: Before starting the Cyclone Challenge Rides, you must first visit Sign-on. You can do this on the evening of Friday 29th June, at the Cycle Hub, Ouseburn, Newcastle Quayside, or on the morning of the event at the event HQ (Newcastle Falcons Rugby Club). All riders must sign-on individually at one of these two opportunities. You cannot sign on for another/other riders.
Please bring your SIGN-ON TICKET and a separate piece of identification with you. Wherever possible participants for the Saturday rides are requested to register on Friday to ease congestion on Saturday morning.

Sign-on Friday 29th June:
The Cycle Hub, Ouseburn, Newcastle Quayside NE6 1BU - All routes: 4pm -9pm

Sign-on Saturday 30th June:
Newcastle Falcons Rugby Ground NE13 8AF - Note, we'd prefer riders to sign on in the following time slots, depending on which ride that are doing:
106 mile route: 7.00-8.00am
90 mile route: 8.00-9.00am
64 mile route: 8.30-9.30am
34 mile route: 9.00-10.00am
SIGN-ON - WHAT YOU NEED TO COLLECT
At sign-on, you will receive a rider number to fasten to your bike (so our marshals can recognise you) and your timing chip to attach to your helmet. Please keep these safe and attach them as soon as possible as you can't start without them. Don't forget to bring a copy of the event programme, as this includes maps and an emergency phone number.

STARTING YOUR RIDE
Once you have signed-on and attached your number and chip, you are free to join the riders waiting to be started. Please follow the event marshals' instructions. Your event number has an emergency telephone number printed on it, should you need help on the day. Enjoy your ride.
AT THE FINISH
When you return to the finish, remember to visit the timing team (located at the South end of the West Stand) to receive a print-off of your time and collect your goody-bag and t-shirt. We also like to know that you have completed the ride safely. Please note, we would like all riders to complete their ride by 6 pm the latest.
AND FINALLY
We look forward to seeing you on the day. Have a wonderful time!
Peter and Lana Harrison, The Organisers