Training - one rider's first sportive
November 21, 2016 |  6years | GENERAL
One rider's account of his first long road event and how he trained for it. It's interesting to read about his mistakes and what went well and what went less well on the big day.
Training for your first Sportive or Challenge Ride is a tricky thing to get right. A lot of what you do depends on the length and difficulty of the event. A lot also depends on your experience as a cyclist and the amount of cycling you would normally do.
With that in mind, here's what I did to prepare for my first Sportive, the legendary Etape du Tour in 2003. I was then a relatively seasoned cyclist in my late thirties, but I had little experience of very long rides and that year's Etape du Tour was a very long (approx 120 miles) stage in the French Pyrenees, with two very long and, in places, steep climbs.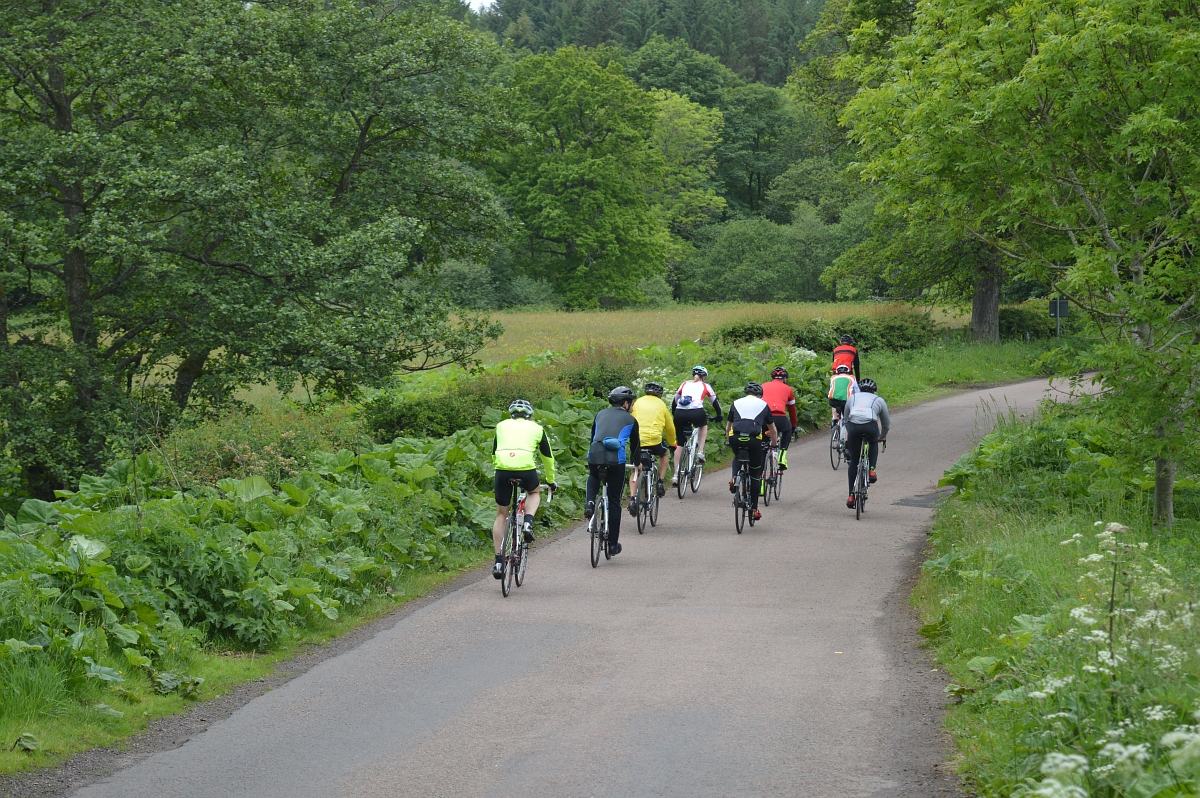 Challenge or Sportive rides are a great way to test your fitness and all round cycling ability
I took advice from a few people, including a national cycling coach who I knew quite well at the time. His advice was to not get too hung up on the distances involved and to make my training high quality rather than really high volume. He suggested a diet of brisk two-hour rides, to build my fitness during a three month block running up to the event, with a couple of four hour rides a couple of weeks short of the big day, during which I was to work on eating and drinking strategies.
I also approached a top road rider I knew, who had raced in France for several seasons. He was particularly good on making me think about comfort on the bike and gearing. We looked at my cycling background and at the climbs I would be facing and we came up with the idea of running a mountain bike rear cassette and derailleur to give me the gears to cruise up long steep climbs. I needed some solution that would get me up a mountain pass with a 39 tooth inner ring. I'm not particularly light, so the 39 x 32 combination we came up with was a great solution. Today's compact chainsets have made finding appropriate gearing a lot easier and most road bikes bought for sportive usage now have a 36 or 34 tooth inner chainring and a rear derailleur that will cope with a 32 tooth sprocket on the rear cassette.
My roadie friend also told me to pay attention to the climate – we discovered that there was a wide range of potential conditions in the Pyrenees in July, so we simply covered them off with two main pieces of advice underpinning my approach – firstly I would use sun block to control the sun's effects on my body temperature, with particular attention to protecting the back of my neck, an area uniquely vulnerable to the sun for cyclists; secondly he advocated carrying a thin waterproof jacket to wear on the long descents, where even in high summer cooling can be a problem.
Returning to my training, I averaged only about 7 or 8 hours of cycling per week, mainly made up of three or four two hour rides, ridden at as high as intensity that I could sustain, without feeling that I was absolutely wasting myself.
I stuck religiously to the plan and slipped in a couple of extra-long rides at two weeks to go. During these I aimed to drink approximately 750ml of water per hour and to eat at least one snack (every bar, banana, oatcake biscuits) on the hour, every hour.
The final week before the event, I reduced my training by shortening the rides. I also concentrated on making sure that my bike was working well and fitted new tyres and brake blocks.
So, how did it go? Well, on the whole it was a very successful plan. I managed the very long ride without ever feeling that it was physically beyond me. Indeed, I was actually quite fresh at the finish and I couldn't eat everything I'd taken with me. I stuck to my drinking strategy to the letter and that too seemed to work. I even had to stop for a "comfort break" twice, which suggested I remained well hydrated throughout.
The bike set-up was perfect and I was cruising on the long climbs where many other riders were grinding. That seemed to keep my legs fresh and cramp free. The clothing a sun-cream advice also paid off. There were some very exposed and sunny sections and yet it clouded over on one of the descents, making me very glad of the coat.
Overall, it was very successful and enjoyable day.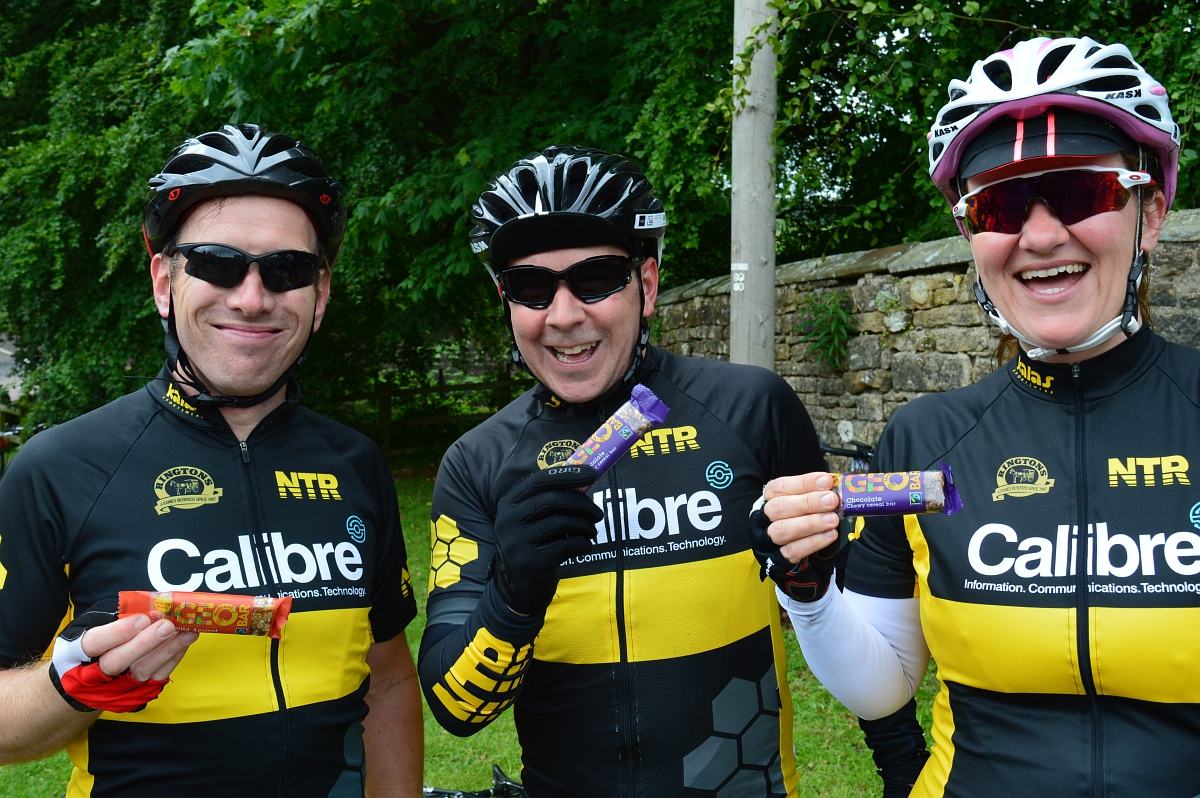 Training and riding with others and getting their nutrition right - these riders know what they are doing!
Is there anything I would have done differently? Well, with subsequent experience, I should have done a couple of other things.
Firstly, I trained alone. I wasn't a member of a club at the time and much of my cycling was mountain biking, so I very little experience of riding in groups on the road. A couple of friends who rode the same event and had, I knew well, very similar levels of fitness/talent to myself, finished over an hour in front of me. This intrigued me and chatting with them, I learnt that they had both benefited from joining onto groups of other riders throughout the event, gaining a lot of time through slipstreaming.
That might sound blindingly obvious to a cyclist who has always ridden the road in a club environment, but to a rider of my experience, it had never occurred to me. I did work with groups of riders from time to time, but I wasn't entirely comfortable in the "peloton" environment and so gained a good deal less from it than my friends. It's an obvious mistake, but one that a newcomer to road riding might well make. So, if you're preparing for a Sportive, a little group riding with a local club or cycling group is a top idea!
The other thing I would have done differently is get a "bike fit" before the event. My road bike was set up, like so many of about 10 years ago, in a way that was actually ideal for "racing" but not entirely useful for the longer event I was riding. Again, like the advent of the compact chainset, shorter, more upright road bikes were just starting to appear at the time, and many Sportive riders these days have a bike which is specifically designed to be comfortable for long periods in the saddle.
I'd also add that I've recently had my first ever professional bike fit and despite having many years of cycling behind me, I still found that there were several significant changes I could make to my set-up to make me more comfortable. So, unless you're very confident in your ability to set your bike up, a bike fit is probably more relevant to you as a Sportive rider that almost any other type of cyclist. I know that I finished the Etape du Tour in good shape in terms of energy levels, but the last few hours were endured with a sore neck and arms, a legacy I now realise of having a longer and lower position on the bike that was sensible.
So, to summarise, everyone is different. Formulate a plan that will suit you and don't be afraid to get lots of advice. But also don't forget to do the hard work before the event. You won't get fit thinking about riding! And sort out your eating and drinking. More riders fail to finish Sportives because of a failure to eat and drink correctly than any other reason.
Good luck!